OLX has long been trying to contain fraudulent buyers. The attempt to close the ecosystem by "OLX shipments" is probably not one of the portal's successes. Not because it's not a good idea, but because it is currently a frequently used theme in scam scenarios on OLX. An interesting story happened to the eZNACZEK team today.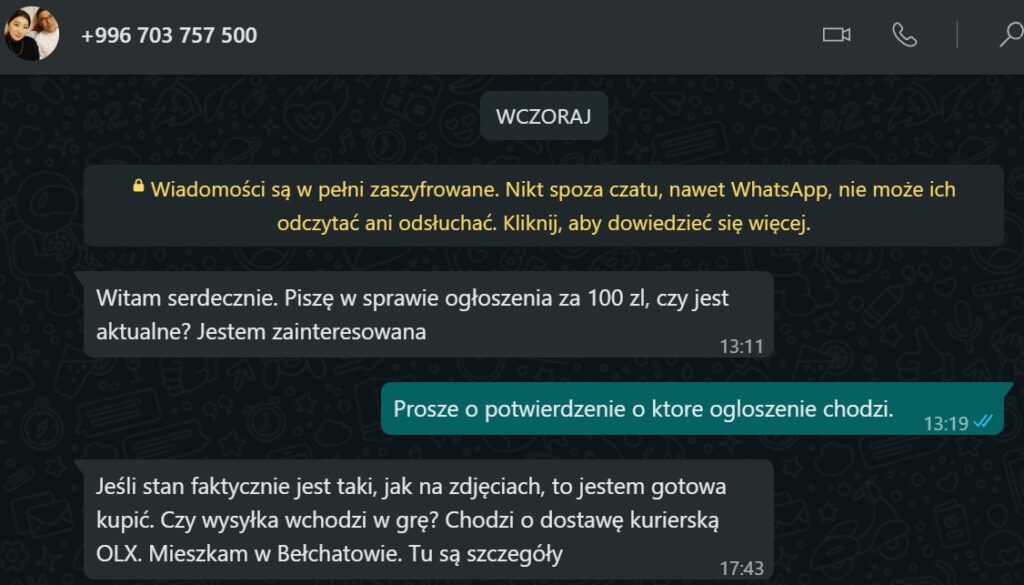 The message received on WhatsApp arouses curiosity - the phone number +996, which stands for Kyrgyzstan, catches the eye. The first message is from 17:11 local time in Bishkek, hence my assumption that the second troll shift arrived at the work. Or maybe their office is in Bełchatów, Poland? Who knows. They have huge chimneys over there in Bełchatów and maybe you can see Kyrgyzstan from the highest point. Anyway, it just so happens that I currently have two active offers for which the price is exactly 100 PLN, so I would like to know what shall I send to Bishkek. And that there will be a shipment, I am sure after receiving the message below containing an interesting screen, allegedly coming from OLX. Full professional work - even the font fits. I also know that, as is usually the case in this type of fraud - to get money I have to click on a fraudulent link.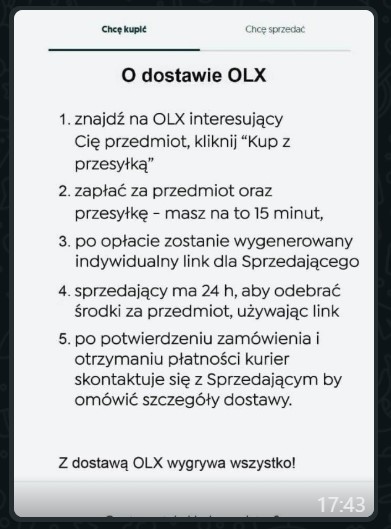 The fraudsters are busy today (they must also have sales plans) and I only get the link to "receive payment" after an hour and a half. Now I know which of my offers were chosen by the fraudsters - the season for selling Communion accessories is behind us, but the displayed shoes did not find a buyer and the advertisement was hanging like that until it shall simply expire. The fact that the fraudsters became interested in this offer is another confirmation of the known pattern that they pretend to be interested in "hard-to-go goods". I can also see what interesting domain they used. Buy shoes in Warsaw? Send Bishkek? No problem.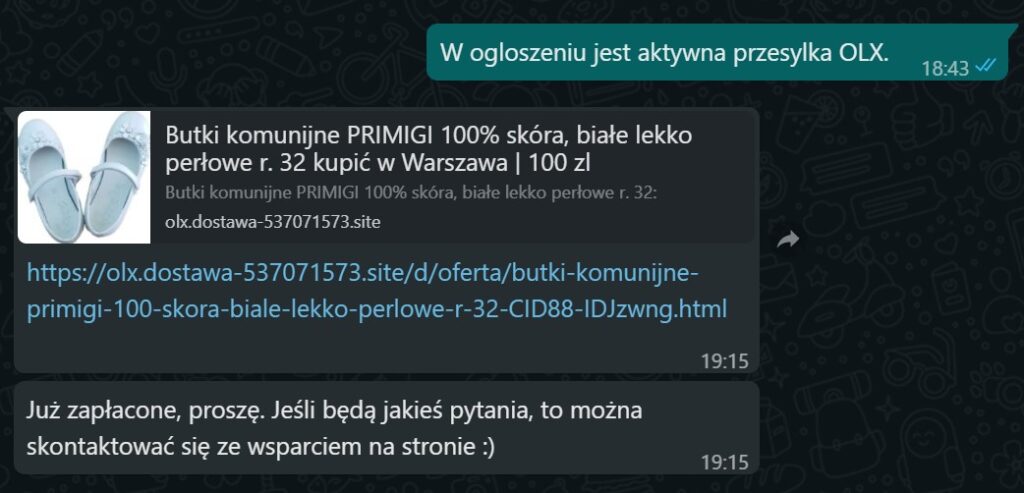 I still have some time to "collect the payment" and will use this time to check if OLX protects sellers from such attacks. I have to admit that OLX website dedicated to helping users is quite extensive and contains a lot of useful information. We can also check whether the received payment link is "real".

Meanwhile, it is 1 am in Bishkek and when asked the fraudsters why I do not have received the payment yet, I do not receive an answer. I can see that the message has not reached the fraudster's device. I will not wait until morning. I'm blocking a contact on WhatsApp. Bye bye Bishkek. Good night.
The fact that I was not fooled is due to the fact that we deal with the subject of communication on a daily basis. But we must realize that many people are victims of such scams. Perhaps at the same time as I am writing this post, they are just losing money from their bank accounts. Why?
According to research carried out on the Warsaw School of Economics only 4% of Poles frequently read warnings on banks' websites informing about fraud. The OLX security site is also certainly visited by a handful of portal users only. There is no solution that would close the OLX ecosystem, allowing portal users to definitively cut off from external - not authorized by OLX and not controlled within the ecosystem - message carriers and contact between buyers and sellers, which would allow to close communication only within the OLX ecosystem.
An eZNACZEK, which is an additional layer of security, dedicated to increase security of electronic communication, also as part of auction portals and with advertisements, would be perfect for this role. If each OLX user set their own eZNACZEK - they would know that they can take actions related to OLX only when the message they receive contains an eZNACZEK. Being a string of characters or a photo of your favorite granddaughter. A message without an eZNACZEK could end up where it should be - in the trash bin or spam folder.