Ju? jaki? czas temu informowali?my Was o g?o?nych atakach spoofingowych, kte na jaki? czas sta?y si? jednym z g?ównych tematów w mediach tradycyjnych oraz internetowych pojawiaj?cym si? od wiadomo?ci po programy ?niadaniowe a? do publikacji i wpisów na portalach. W artyku?ach i reporta?ach pada?y g?o?ne nazwiska osób na wysoko postawionych stanowiskach, a w tle panowa?a atmosfera grozy: strze?cie si?, pod (telefon) ka?dego z nas mo?na si? podszy?!
But is political reckoning an issue that we really need to be concerned about? Of course, phone calls informing about the death or illness of a close family member are (driven by hate) actions that should be stigmatized. It is unlikely that we will become a victim of such an attack, which does not mean that we are not affected by the problem. Under the mantle of the phone, which makes a hair on its head, there is a scourge of spoofing, which can also affect our bank accounts, savings and the phishing of sensitive personal data - we must not forget about it! Why? Because spoofing is not only about impersonating the phone numbers of famous people, and attacks on "famous people" are simply the use of methods and tools that have been used by fraudsters for a long time in attacks that each of us can become a victim of. And no one wants to protect us from these attacks. How is this possible?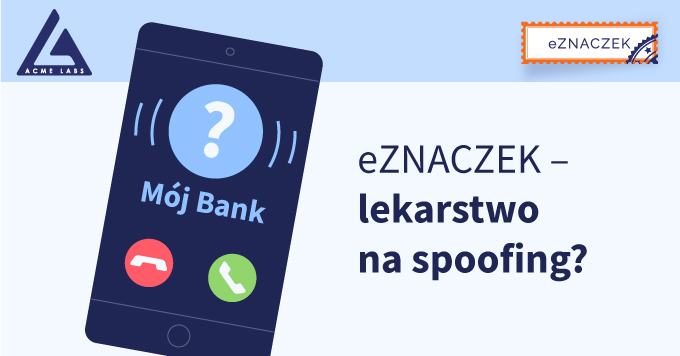 Cybercriminals not only pretend to be consultants from mBank and ING Bank Śląski, Bank Millennium or PKO BP, but also pretend to be employees of institutions and companies such as Zakład Ubezpieczeń Społecznych, BLIK, CBA, Allegro, OLX and many others. And they make calls to us using the numbers we know and identify as trusted. For this reason, these phones put the customer against the wall - and fraudsters, for example, threaten with an attack on the account and the loss of funds, extort access and steal money from the account without leaving a trace. If, for fear, we become a victim of such an attack, then if we stand up as a customer in a duel with a supplier - e.g. a bank, we have a poor chance of winning the case. All we can count on is when we hear that we should be careful. And why did we provide data when a fraudster spoke to us? It is in vain to explain here that the methods of cyber fraud are becoming more and more advanced ... and thanks to the lack of action on the part of our provider (e.g. a bank), we did not have access to a tool that would allow us to identify the caller as a fraudster. We can only tell you that it doesn't have to be that way. How to change it?
Our goal is to protect every bank and savings account - not only corporate but also individual, as well as each of your relationships with your supplier - a financial institution, telecom or utility supplier. The implementation of the eZNACZEK as an additional security for your communication with your suppliers will not only give you a sense of security, but will actually protect you against potential network attacks and will drastically reduce their number. What's more, the eZNACZEK is a tool that will reduce the risk of becoming a victim of spoofing. The eZNACZEK is an additional layer of security, protected by a patent - it is currently the only such solution on the market.
And we want to share this pride and effectiveness with you - so if you are interested in implementing eZNACZEK in your company and ensuring security for your clients, contact us. If your service / media provider does not provide you with the option of using the eZNACZEK - ask him about our solution. Also ask him if and how he protects telephone and electronic communication with you.